2000W "Mill" Designer Electric WiFi + Bluetooth Panel Heater - 1050mm(w) x 400mm(h)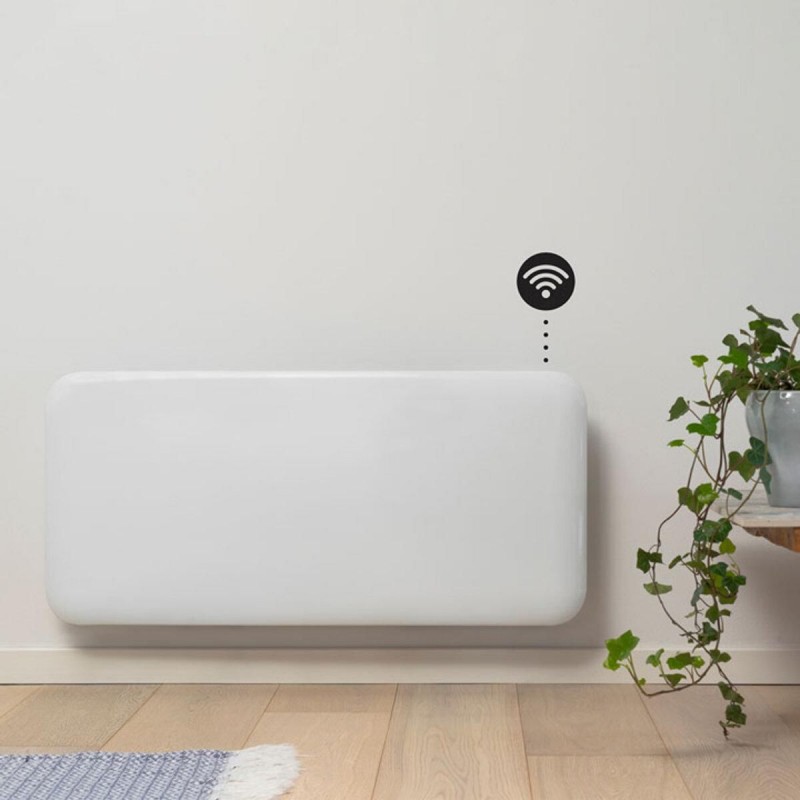 arrow_upward arrow_downward
To make peoples life truly convenient we are now offering fully WiFi integrated panel heaters, where the heaters can be controlled with a touch of a button on your Millheat App. By using the App you can control different locations and as many heaters as you want. The App is free and there are no hidden costs. 
local_shipping Order now for delivery FREE on Monday, 4th July
Data sheet
Height (mm)

400mm

Width (mm)

1050mm

Depth (mm)

58mm

Outer Finish

White

Material

Mild Steel (Aluminium Heating Element)

Design

Mill Heat

Output Watts

2000W

Fixing Kit

Wall Bracket Including Screws and plugs

Guarantee

2 Years

Projection

86mm (Wall to Front)

Volts

220V

Power Lead Length

1.3 metres (3 Pin Plug) Right Hand Side

IP Rating

IPX4 (Approved for Use in Bathroom - Zone 2)

Model

Panel Heater

Category

Electric Panel Heaters

Fuel Type

Electric

Brand
MILL PA2000WIFI3- Panel Heater
Mill PA2000WIFI3is a steel design panel heater with integrated wifi module . This model will keep large rooms, heated. It has a total effect of 2000W. This model can be placed in bathrooms (IPX4)
Generation 3
The Mill PA2000WIFI3 is a generation 3 model with many improvements in hardware and software compared to previous generation models such as:
• Super easy connection with Bluetooth allows it to automatically connect to your Wi-Fi network, no matter what type of router you have.
• The first and only heater with a PID (Proportional Integral Derivative) thermostat. When the desired temperature is reached, the heater will maintain this temperature by reducing the power level. This means more stable heating with less temperature fluctuations.
• Predictive heating – The stove heats the room so that the desired temperature is reached at a specific time. The panel heater has an advanced algorithm that allows it to learn how fast/slow the temperature in the room is going up/down. That way, it knows when to start heating to reach the desired temperature at the time you have scheduled in the app.
Integrated WIFI
The panel heater has an integrated WiFi module. This means no hub is needed or the thermostat changes. The heater connects directly to your WiFi network. Make sure your WiFi router has enough capacity for the number of active devices connected to your home network.
FEATURES
The Millheat app gives you freedom to control your heaters from anywhere in the world, at a touch of a button. Just tell the app your normal schedule and it will adjust the temperature automatically for you, making your life easy and comfortable.
The app is built in a way such that each heater that is installed will be connected to a house and a specific room (where a room can consist of one or several heaters), or as independent heaters that can be moved between different rooms.
Control all your heaters situated in multiple locations (home, cabins etc), all inside the Millheat app. You can control all your heaters via the same user, regardless of where the heaters are situated
Set up weekly programs with different pore-defined modes (Comfort, Sleep, Away and OFF)
Set individual temperature for 3 different modes in each room
Override the set programs for the whole house, a specific room or a specific heater. There is no need to edit your program if you get home earlier than normal one day)
Control your heater independently by not assigning it to a specific room and program. This gives you the freedom to move the heater between rooms, according to your needs.
Enable vacation mode for saving energy while you are away. The app will automatically increase the temperature in your house before you get back home
Share your house with other family members, making control easy
"Open window" function that automatically turns off the heater if the temperature sensors registers a sudden fall in the temperature. The heater will start heating again automatically after 10 minutes.
INTEGRATED WIFI
The heaters (AV and NE series, Convection PA2000WIFI3, Oil Premium AB-H1500WIFI and WiFi Socket) have an integrated WiFi module. This means that there is no need for any hub or changing the thermostat. The heaters will connect directly to your WiFi network. 
Please make sure your WiFi router has sufficient capacity of number of active devices connected to your home network.
SYSTEM REQUIREMENTS
App name: Millheat
WiFi specifications: Generation 1: 802.11b/g, 2,4 Ghz, Generation 2: 802.11b/g/n, 2,4 Ghz
iOS: Version 8 and newer
Android: Version 4.2 and newer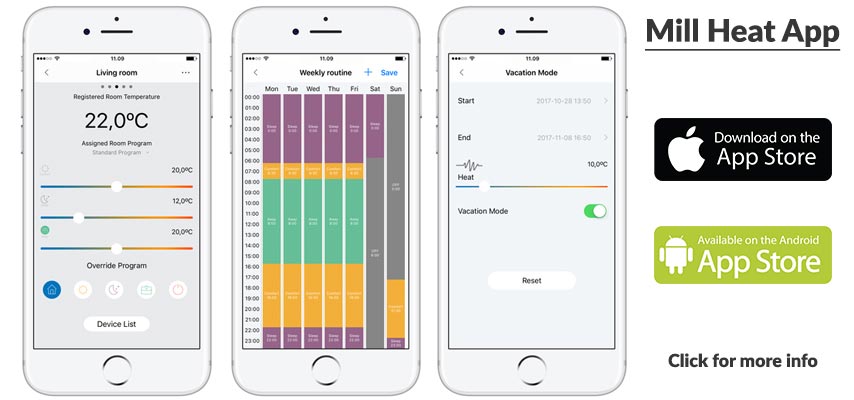 NOTE: Click the Image (above) for more information on how the app is programmed.
BENEFITS
Aluminium heating element - high efficiency and low surface temperature
100% silent operations
Super accurate thermostat - digitally registered
Easy operation
Temperature calibration function
Elegant design with steel front
Advanced thermostat control - Millheat App + WiFi + Bluetooth
TECHNICAL SPECS
Power: 2000W
Thermostat: WiFi
Material heating element: Aluminium
Material front: Steel
Colour: White
Cord: White, 130 cm
Placement cord outlet: Right side
Earth: Yes
IP classification: IPX4 (Approved for use in bathrooms zone 2)