350mm (w) x 1600mm (h) Polished Straight "Stainless Steel" Towel Rail
-£10.00
In Stock
Btus: 1611
472 Watts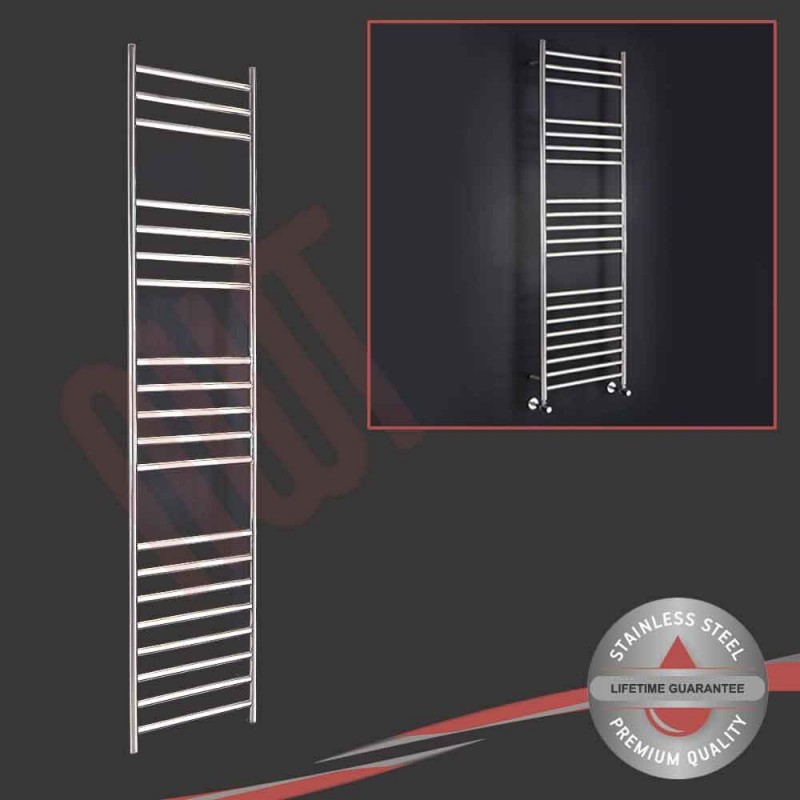 An NWT Polished stainless steel towel rail is a high end premium product that reflects quality throughout. The high quality raw material is hand polished to a stunning sparkling stainless steel finish. These towel rails are lightweight and ultra-efficient.
flash_on Available in a electrical version
local_shipping Order now for delivery FREE on Tuesday, 28th June
This product is available to view in our Conwy based showroom.
Data sheet
Height (mm)

1600mm

Width (mm)

350mm

Depth (mm)

32.5

Outer Finish

Polished Stainless Steel

Material

Stainless Steel (Grade 304)

Design

Straight Towel Rail

Output BTUs

1611

Output Watts

472

Tube Diameter (mm)

22mm

Tube Bar Pattern

3 - 4 - 5 - 8

Fixing Kit

Barrel Fixings

Accessories

Full Fixing Kits

Guarantee

Lifetime

Projection

105mm

Pipe Centres

318

Fuel Type

Central Heating

Brand
An NWT Polished Stainless Steel Heated Towel Rail is a functional heating solution for a variety of roomsets and installations. 
We have a wide range of sizes varying in width (350mm up to 1200mm) and height (400mm up to 1600mm)
Our polished stainless steel ladder rails are ideal for both:
- drying towels or clothing.
- providing an efficient heat source to the room.
All of our ladder rails are manufactured and packaged to the highest standard. We use 22mm horizontal tubing for improved heat outputs and aesthetics and are more appealing than the standard, smaller 19mm tube often used. 
All of our ladder rails are supplied with:
- 4 Point fixing kit 
- x1 Bleed Valve
- x1 Blank Plug
- Our Lifetime manufacture guarantee
Our Polished Stainless Steel Range of Sizes:
Straight Horizontal Tubes:
350mm(w) x 430mm(h) - 484 BTUs
350mm(w) x 600mm(h) - 698 BTUs
350mm(w) x 800mm(h) - 833 BTUs
350mm(w) x 1200mm(h) - 1274 BTUs
350mm(w) x 1400mm(h) - 1443 BTUs
350mm(w) x 1600mm(h) - 1611 BTUs
500mm(w) x 430mm(h) - 624 BTUs
500mm(w) x 600mm(h) - 904 BTUs
500mm(w) x 800mm(h) - 1058 BTUs
500mm(w) x 1200mm(h) - 1617 BTUs
500mm(w) x 1400mm(h) - 1823 BTUs
500mm(w) x 1600mm(h) - 2025 BTUs
600mm(w) x 430mm(h) - 715 BTUs
600mm(w) x 600mm(h) - 1039 BTUs
600mm(w) x 800mm(h) - 1205 BTUs
600mm(w) x 1200mm(h) - 1840 BTUs
600mm(w) x 1400mm(h) - 2068 BTUs
600mm(w) x 1600mm(h) - 2291 BTUs
1000mm(w) x 600mm(h) - 1286 BTUs
1000mm(w) x 800mm(h) - 1715 BTUs

1200mm(w) x 400mm(h) - 1007 BTUs
1200mm(w) x 600mm(h) - 1510 BTUs
Curved Horizontal Tubes:
500mm(w) x 800mm(h) - 1124 BTUs
500mm(w) x 1200mm(h) - 1718 BTUs
500mm(w) x 1500mm(h) - 2205 BTUs
This is just a guide for reference only, rooms may require more than one radiator. If this applies to you, divide the required output between the number of radiators required. All figures given are for Delta T 50°