The "Gladstone" 4 Column 813mm (H) Traditional Victorian Cast Iron Radiator (3 to 30 Sections Wide) - Choose your Finish
In Stock
Btus: 450 Per Section
132 Per Section Watts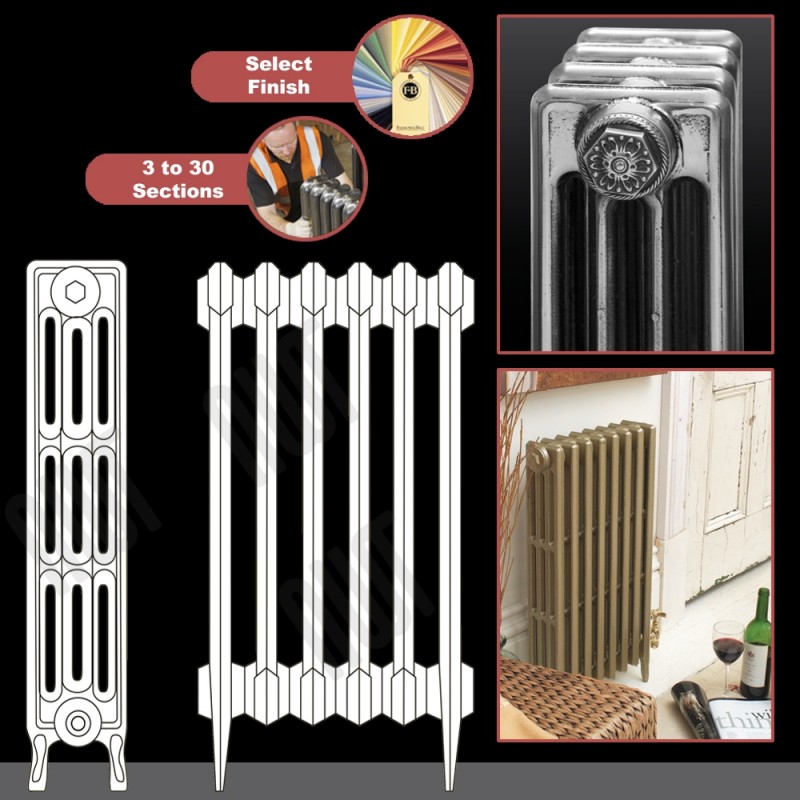 arrow_upward arrow_downward
"THE GLADSTONE" is a traditional victorian radiator first produced in America in the 1880s. The simple column design gives a contemporary feel for the more modern setting while still honouring is authentic, traditional roots. The Gladstone 4 Column model is available in 4 heights (460mm, 660mm, 760mm & 813mm) and up to 30 sections in width.
Data sheet
Height (mm)

813mm

Width (mm)

214mm, 274mm, 335mm, 395mm, 455mm, 515mm, 575mm, 635mm, 695mm, 755mm, 815mm, 875mm, 936mm, 996mm, 1056mm, 1116mm, 1176mm, 1236mm, 1296mm, 1356mm, 1416mm, 1476mm, 1537mm, 1597mm, 1657mm, 1717mm, 1777mm, 1837mm

Outer Finish

Custom Finished

Material

Cast Iron

Design

Gladstone

Output BTUs

450 Per Section

Output Watts

132 Per Section

Tube Bar Pattern

3 to 30 Sections

Accessories

Supplied with Standard End Caps and Bleed Valve (NOTE: Valves and Wall Stays are not Included)

Guarantee

10 Years

Projection

143mm

Pipe Centres

Width of Radiator plus Valves

Socket Width

1/2" BSP

Delivery Time

7 Working Days (Standard or Metallic Paint) 7-10 Working Days (Antique, Highlight & Polished Finishes)

Brand

Our stunning range of cast iron radiators are designed, assembled and finished in the UK giving the products the care and attention they deserve. The humble cast iron radiator has been resurrected into a modern day piece of art with a wide range of styles, colours and finishes to suit an array of period and modern properties.
"THE GLADSTONE" is a traditional Victorian radiator first produced in America in the 1880s. The simple column design gives a contemporary feel for the more modern setting while still honouring is authentic, traditional roots. The Gladstone 4 Column model is available in 4 heights (460mm, 660mm, 760mm & 813mm) and up to 30 sections in width.
---
Step 1 - Choose the Number of Sections:
No. Of Sections
Length mm
Watts
BTU's
3
214
396
1350
4
274
528
1800
5
335
659
2250
6
395
791
2700
7
455
923
3150
8
515
1055
3600
9
575
1187
4050
10
635
1319
4500
11
695
1451
4950
12
755
1583
5400
13
815
1715
5850
14
875
1846
6300
15
936
1978
6750
16
996
2110
7200
17
1056
2242
7650
18
1116
2374
8100
19
1176
2506
8550
20
1236
2638
9000
21
1296
2770
9450
22
1356
2909
9900
23
1416
3033
10350
24
1476
3165
1080
25
1537
3297
11250
26
1597
3429
11700
27
1657
3561
12150
28
1717
3693
12600
29
1777
3825
13050
30
1837
3957
13500
---
Step 2 - Choose your Finish:
Our stunning range of cast iron radiators are available in a multitude of finishes to suit your interior design. We have broken your options down into 5 main categories:
Option 1 - Painted
For an authentic, historical finish here at NWT we use only the highest quality paint supplied by Farrow and Ball. We have hand picked the most popular colour ranges for you to choose from that will seamlessly blend and compliment your surroundings. As standard we use an oil base paint mix which is expertly applied by our highly skilled staff.

---
Option 2 - Metallic
Our range of metallic finishes are already proving extremely popular and truly set your radiator installation apart. The available metallic paints ooze luxury and warmth and can be matched to compliment other metallic objects within your roomset. We do NOT charge a premium for metallic paint finishes making them an affordable, luxury option with sample swatches available on request.

---
Option 3 - Antiqued
To complete the period look of your NWT Cast Iron Radiator our highly skilled team have perfected the art of the antique paint effect. Simply choose your historical or metallic paint as a base colour with an antique finish and we will transform your cast iron radiator into an authentic piece of historical art. This service is particularly effective on the decorative radiator styles where the raised etched designs can be accentuated.

---
Option 4 - Highlights
For a truly dramatic and atmospheric piece of design our highly skilled team can transform your cast iron radiator design through our highlighted paint effects. Simply choose your historical or metallic paint as a base colour and then choose one of our 3 stunning highlight effects (Copper, Pewter or Gold) The contrasting highlights emphasize every intricate detail of the cast radiator design creating a beautiful one-off piece.

---
Option 5 - Polished OR Coloured Lacquer
Our hand polished finishes are available in 3 unique designs (Industrial, Burnished or High Polish) This is a highly specialised process involving each section of your cast iron radiator being hand finished to your chosen design. This process accentuates the beautiful detail in the cast of the radiator, particularly on decorative finishes. Our range of 6 Coloured Lacquer options will set your installation apart with a robust outer lacquer protection. NOTE: This is a full polished service so every section, front and back will receive the same meticulous attention to achieve the highest quality finish.


---
Step 3 - Choose your Accessories:
Complete the look of your Cast Iron Radiator installation with our beautifully crafted range of accessories. These include our traditional radiator valves in multiple styles and finishes, secure wall stays for added piece of mind, decorative end caps for that ultimate in luxury and upgrades in bleed valves, pipe connections and collars.
What Will I Receive When I Order an NWT Cast Iron Radiator?
1. Your chosen assembled and finished radiator
NOTE: The two end sections are always feet sections. If you order over 21 sections you radiator will have an additional 2 feet sections spaced evenly across the radiator. This is to protect the radiator bowing under the weight.
NOTE: Any radiator over 1.2 Metres in width will be delivered in 2 or 3 sections. We provide a connecting tool for joining the radiators which requires an additional £70 deposit payment which is refundable on the return of the tool.
2. x4 Standard Hexagonal End Caps UPGRADES AVAILABLE
(x1 TOP - Flat Blank, x1 TOP - Bleed Valve Connector, x2 - 1/2" Valve Connectors BOTTOM).
3. x1 Standard Brass Bleed Valve UPGRADES AVAILABLE
4. Wall Stays are not supplied as standard but you will require x1 for 3-11 Sections OR x2 for 12-30 Sections.
---
Step 4 - Please read our Technical Info and Terms & Conditions:
Customer Service:
Choosing cast iron radiators for your heating system need not be a daunting project. We are on hand via telephone 01492 573738 or email info@nwtdirect.co.uk for all enquiries. We take you step by step through the extensive choices you have in radiator and fittings style and the technical aspects of installation. We can help you with the BTU calculations required for each room and the size of radiator you require for each space. A specification sheet is provided, upon request, for all pipe work measurements required for installation.
All dimensions provided are subject to manufacturers tolerances and as each cast iron radiator is custom built there might be slight variances in the sizes listed. In certain circumstances due to the weight, size of radiator required, space availability or stairway entrance, a cast iron radiator can be delivered in 2 or more parts with a joining tool for construction upon site, this can be discussed with your requirements.
Custom Built and Pressure Tested Ready for Installation:
Each order is custom built to specification and delivered ready for installation. We recommend radiators be on site before your pipe work is completed. Upon request a specification sheet is provided with all measurements required for installation of necessary pipe work. Most cast iron radiators are supplied with 1/2 inch connections as standard (We have the option of 3/4 inch on enquiry)
Valve connections are bottom opposite end as standard, top end connections are available upon request.
All radiators are pressure tested to 6 Bar but recommend a working pressure of no more than 2.5 Bar.
Efficiency:
Outputs are listed in Watts and BTU (British Thermal Units) with a Delta (Æ)t of 50°C. Watts x 3.412=BTU/h. We quote our heat output efficiency at Æt of 50°C as this is the average working temperature required. We provide our 10 Year Manufacturer Guarantee for extra peace of mind. 
Water Treatment:
Cast iron radiators are for use on closed, indirect central heating systems (sealed systems) only, they are not suitable for installation on open hot water system circuits. Upon completion of the installation the entire system must be thoroughly cleaned and flushed to remove debris and flux residues etc. If a chemical cleanser is used it must be thoroughly flushed from the system. Following this procedure the system must be closed with a good eminence water treatment to prevent corrosion. We recommend the use of Fernox water treatments. System design, flushing and dosing must be in accordance with BS 5449, 1990, BS EN 12828: 2003 and BS 7593.
We strongly discourage the use of a water softener on the heating system as this treatment can cause problems with the seals. It is important to note that failure to observe these requirements will render the guarantee on the products void. Corrosion inhibitor must be used in accordance with the manufacturer's instructions and  recommendations and should take into account the particular metals within the system.
Delivery:
All our cast iron radiators are delivered via pallet for additional security during transportation. We provide a maximum 7 working day delivery on Standard or Metallic Paint Finishes and a maximum 7-10 working day for antiqued, highlighted or fully polished finishes.
Returns:
We offer a 14 days return period on our cast iron radiators from date of delivery for a change of mind on your order. You will be responsible for the return delivery of the product back to us in perfect re-sellable condition and as this is a custom built product you will incur a 50% restocking charge against your order total.
Agreement:
On the purchasing of an NWT Cast Iron Radiator you agree to the above information and that you have installed your product following our Installation Guide.
Media:
We work closely with the media and our cast iron radiators have been supplied and shown to multiple well known charities, businesses and TV shows.